During Forempleo 2019, several conferences will be held on topics related to the first job (digital transformation, preparation of the Resume, selection process, work programs abroad, etc.), given by leading professionals in the Human Resources area.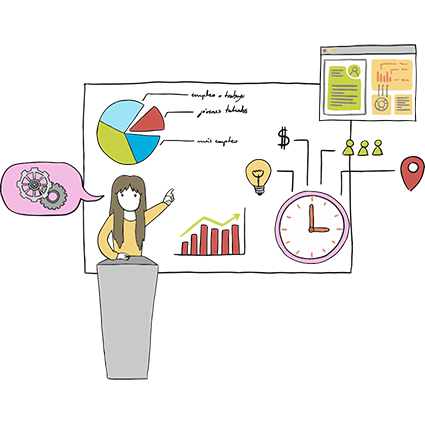 All conferences will be held in the Conference Room located in the Forempleo Tent.
10:30 - 11:30
How to make your CV in Linkedin and position yourself in this social network.
Speaker: EY
The more attractive and adapted your CV is to the position you are looking for, the more chances of success you will have. Do you know what a coach is looking for in your LinkedIn CV? Knowing how to organize information, how to differentiate yourself from other candidates and arouse interest in entering a selection process make your CV a successful tool in the search for employment through social networks. Learn the guidelines of how to do it and how to position yourself in this social network.
12:00 - 13:00
Focus your future towards Digital Transformation.
Speaker: INDRA
Welcome to the technological revolution! Today's society is experiencing an era of Digital Transformation and Technological Innovation. As a result, new studies and specialties are created focusing training plans on the requirements of future professions. We have the opportunity to adapt and update our professions in order to be more competent in them, but … what are these professions going to be?
15:30 - 16:30
Public Service Job Offerings for graduates
Speaker: COMMERCIAL TECHNIQUES AND ECONOMISTS OF THE STATE AND SENIOR STATE CIVILIAN ADMINISTRATORS' CORPS.
Have you thought about preparing an opposition? Get to know first-hand the experience of university graduates like you, who decided to oppose and get a lifetime job They will talk about how to prepare entry exams, how is their work and their day to day.
16:30 - 17:30
European Union bodies: an international opportunity
Speaker: SPANISH PRESENCE DEVELOPMENT UNIT IN EU INSTITUTIONS. MINISTRY OF FOREIGN AFFAIRS
Learn about the challenges and opportunities that European organizations offer you, how to access the calls, what you need and how to prepare to successfully overcome the processes to take off with an international career.
10:30 - 11:30
Coaching: discover your potential.
Speaker: SALESFORCE
Know your strengths, set yourself a professional goal and know all the tools at your disposal to design your professional future. Discover your potential to maximize your results in the job search. We help you in this process by giving you guidelines for guaranteed success.
12:00 - 13:00
How to face a selection process?
Speaker: BBVA
The selection process aims to evaluate the candidate based on the requirements established for the position to be filled. Know the steps that will allow you to successfully face a selection interview and the rest of the tests that are part of a selection process, through the analysis of real situations by the personnel selection specialists.
13:30 - 14:30
How to improve the circular economy through ICT
Speaker: EY
Finding an alternative to the current consumption model is an economic, social, ecological and cultural issue that affects all areas of society. ICTs play a key role in helping the sustainability of these models. The technological challenge is now to improve efficiency and ensure sustainability.
16:30 - 17:30
Soft Skills: the new skills / needs demanded by the labor market.
Speaker: DXC TECHNOLOGY.
Teamwork, conflict resolution, goal orientation, decision making, communication, empathy, creativity, etc. Soft skills are beginning to be really important in the selection processes. We help you identify and enhance those skills that will open the doors of the labor market.